Our bulletin board of news is where you can get a more in-depth view of what we have going on at ApexNetwork. Here we broadcast not only about us, but anything we find interesting in regards to the healthcare world.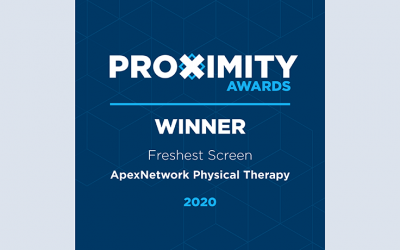 ApexNetwork Physical Therapy is honored to be named one of the 2020 #ProximityAwards Featured 40, recognizing excellence in digital in-venue engagement! "The award for Freshest Screen recognizes a company that is committed to improving the digital in-venue experience...
read more
LEARN MORE ABOUT APEXNETWORK
Click the link to get more information about how ApexNetwork can help you drive your physical therapy clinic.